As the clock struck midnight and Maryland's General Assembly adjourned sine die, it was immediately apparent that there was one major story going forward in this election year: Governor Hogan had won, again.
Importantly, the Hogan victory in the 2018 General Assembly was not a pyrrhic victory, or, to be more precise in our historical analogies, a Fabian defense. Rather, Governor Hogan's strong performance in this Session was not a de facto win by not engaging, but rather scored political victories by leaning-in on issues and achieving bipartisan solutions to important problems.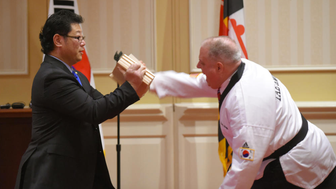 It's critical to note the juxtaposition of the Governor's successes in Annapolis with the partisan gridlock a few miles away in Washington, DC. Hogan who has shown himself to be no fan of the sitting Republican President, has also shied away from the rhetoric and gamesmanship that has made average voters cynical about the political process.
As we noted, Hogan's success this Session isn't just an acquiescence on hard-left policies pushed by the General Assembly. That would be the easy way to avoid conflict. However, Hogan's decision to push for issues that he believes in should add wind to the sails of conservatives who may have been wary of Hogan, given his strong personal distaste for the occupant of the White House.
Let's look at a few of the Governor's wins this Session for average Marylanders.
The Governor's 2018 Wins
Amazon. The online mega-mega-store crosses all party and economic dividing lines. Already employing thousands of Marylanders, the Governor, in conjunction with local officials, is doing everything in his power to make sure that the DC suburbs look appealing to the giant company for its new headquarters. While the efforts made by states have been ridiculed as begging and scraping for a slice of corporate money, the reality is that Amazon moving its headquarters to Maryland would be transformative and could add billions to the Maryland economy.
Healthcare. The Governor has made no secret of his distaste for the policies and practices of Washington DC. While it was politically expedient for DC to make sweeping changes to Obamacare, the potential impact of 150,000 Marylanders could have resulted in a drastic cut to their access to healthcare. The Governor spearheaded the push to make sure that Marylanders who were most in need of health insurance stability would have that assurance. Notably, this was not the creation of some new entitlement, but rather a market stabilization investment.
School Safety. In the wake of school shooting incidents, Hogan led a late-Session push to bring additional safety measures into schools. The Governor's proposals acted as key framework points for legislation that made it through the General Assembly.
Corruption. The Governor has been a strong advocate for rooting out corruption in the General Assembly and throughout the state's byzantine bureaucracy. While, predictably, the General Assembly did not act on any of the Governor's proposals to add oversight to themselves, the effort from the Governor is not going unnoticed across the political spectrum. Added to this fact was the inability or unwillingness of Maryland Senate Democrats to expel Senator Nathaniel Oaks (Baltimore City) from the body after he was charged with federal crimes.
Environment and the Bay. There really can be no doubt about the Governor's commitment to a clean Bay, clean air, and Maryland's environment. From banning hydraulic fracturing in Western Maryland, to bringing suit against the EPA over air pollution issues, Governor Hogan has shown that it's not antithetical to be a pro-growth Republican who is also an environmentalist.
Sex Offenders. Maryland will soon bring its laws into sync with Federal law over the issue of introducing evidence of prior acts of sexual misconduct into trials of repeat offenders. This prohibition had stood in the way of convicting offenders in some egregious cases. This issue was championed by the Governor and had the support of a wide-range of bipartisan officials. It will likely be a game-changer for prosecuting offenders and could save lives.
Redistricting. There never was much hope that the Democrats in the General Assembly would take Governor Hogan's outstretched hand to work together to redrawn Maryland's laughably gerrymandered Congressional and State Legislative districts. With one district currently being challenged at the Supreme Court and with the power to draw legislative maps after the decennial census firmly vested in the Governor, Democrats' strategy of refusing to play nice with Hogan's offer of a non-partisan commission may come back to haunt them if Hogan wins re-election this Fall (and if Republicans gain enough seats in the State Senate to sustain a Gubernatorial veto).
Veto Overrides. Sure, as the saying goes, "ya can't win 'em all." The Democrats in the House of Delegates and State Senate have veto-proof majorities. On a few issues, including school funding and sick leave, the Democrats circled the wagons and forced through partisan laws. While most folks would count these in the "loss" column for the Governor, it should show that, in a year when there was widespread bipartisan cooperation on passing laws that helped the common good, Democrats were unwilling to work with the Governor to get to common sense solutions. Rather than meeting Hogan halfway, they refused and played petty partisan politics. This can only be seen as a win for the Governor, who has made it a hallmark of his administration to avoid the partisan "Washingtonian" characterization.
What these Wins Mean
So, what do Hogan's victories this Session mean for the larger political dynamic of Maryland going forward?
A Republican Governor isn't Scary. This is probably the most important takeaway for the short-term politics of the State. If you didn't know, there's an election for Governor this year. Hogan is trying to be the first Republican to get re-elected as Governor of Maryland in something like six decades. There's a lot of historical headwind, and a lot of voter dissatisfaction (in Maryland) with the Republican brand—it's the first midterm of a Republican President, so, given almost every historical indicator, Republicans shouldn't do well at the polls this Fall. However, Hogan has shown an independent streak and a willingness to cooperate on critical issues without the hyper-partisan attacks that are so common in modern political parlance.
The Counterweight. One of the most important functions the Governor has served for each of the four General Assembly sessions during his administration has been as an ideological counterweight to the Democrats in the General Assembly. Almost anyone thinking about government will agree that having single-Party rule is not a good look for government. In Maryland, there are no razor-thin majorities that would require lawmakers working together to achieve the common good. Rather, Democrats have the votes in both houses to shrug-off defections and push through whatever they want. The threat of a veto, coupled with the offer to compromise, has shown itself to be a moderating force for Maryland's legislature during Hogan's tenure.
Maryland is Blue… Until it Isn't. If you take a look at where Marylanders vote for Democrats, they are often clustered in areas where there have been no active, viable Republican candidates for years (or, in some cases, decades). The Governor's (albeit early) polling in these areas shows that he enjoys a wide base of popularity across Party and economic divisions. What does this mean? That Hogan-style candidates who are less-partisan and turned towards commonsense solutions have a strong chance of making inroads in traditionally "blue" areas. We saw this happen in southeastern Baltimore County in the 2014 election and there are certainly hints that this "Hogan wave" could spread across a few State Senate seats in Baltimore County (at least).
Democrats Running for Governor Need Actual Campaigns. The conventional wisdom is, given that it's the President's first midterm, that the President is unpopular in Maryland, and that Hogan and the President are members of the same Party, that a Democrat should win the Maryland gubernatorial race because of the association. However, given Hogan's track record of successes, his popularity, distance from Washington, and overall willingness to come to bipartisan solutions, Democrats running for Governor are left with having to create real, issues-driven campaigns. While this sounds obvious, we should expect to see these candidates have to run to the left in their primary (June 26) in order to win (the primary electorate for both parties tends to skew ideologically). This means that the proposals coming out will likely be well-to-the-left of the center where the Governor sits comfortably. Consequently, the "Hogan Democrat" phenomenon will likely be a major stumbling block for whoever emerges to face the Governor in the General Election.
The Hogan Wave is Coming…
In the four General Assembly sessions since becoming Governor, Hogan, Maryland's Republican Governor, has out-maneuvered his political foes at nearly every turn. The Democrats' stranglehold on the legislature has only amounted to a few, petty, veto overrides. The Governor has worked on bipartisan solutions that would benefit average Marylanders.
Given the successes and growing economy that Maryland has enjoyed since Larry Hogan became Governor, it's no surprise that the Governor's popularity remains high. In reflecting on the Governor's term, it should be clear to any observer that this should merely be the halfway point in a successful eight years in office.